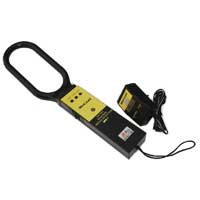 Sometimes it becomes necessary to detect the presence of an undesirable metallic substance. This detection is crucial for various safety and security reasons. At times, finding these metallic substances becomes highly challenging as they can be hidden within an object or form a part of a complex material. This calls for the requirements of a device that can detect a metallic substance effectively within a given proximity. These devices are termed as metal detectors.
A glance of metal detectors
This equipment is equipped with a sensor, which beeps when comes close to a metallic substance. The beep gets higher as the device gets closer to the metal. These devices are highly helpful in screening people and their belonging at various places like airports, hotels, malls, movie halls, and many other places for security reasons. These devices effectively detect a concealed metal weapon carried by a person. As per the metal detector manufacturers in Delhi, these devices detect the persistence of a metallic substance by using the electromagnetic fields. These devices are accessible in different varieties like-
• Walk-through
• Hand-held
• Vehicle-mounted
These devices are highly sensitive to the metallic objects and effectively respond in the case of detection. These are widely used for the detection of a metallic object present in archaeological artifacts, mines, food products, and many other substances. Metal detectors are widely used by the cops for catching a weapon carried by a suspect.
This metal detector device for the industrial applications was developed in the 1960s. Since then, these devices have contributed massively towards safeguarding innumerable public areas from hazardous metallic objects. They have also played a major role in the detection of mines and treasures. The range offered by the metal detector exporters extends its application to the food industry also, as they are widely used for detecting foreign particles present in the food.
Applications of metal detectors
Metal detectors are used in various applications like plastics, food, pharmaceutical, etc. They are also used to protect various tools, mills, etc. using the technique of automated manufacturing. Today, metal detectors are vastly used in the process of quality control.
1. Food processing
In the food industry, metal detectors are used hugely. There are certain legal restrictions and requirements of quality standards like ISO, IFS, HACCP, and FDA are in the markets, which are important for quality check issues in this industry. Using M-Pulse electronics, security becomes higher with the logging and cross-linking processes. These metal detectors are prepared with stainless steel.
2. Plastic processing
Ferrous and non-ferrous contaminants can hamper the manufacturing of plastic process line. The metal detector is able to detect them and then the manufacturers can separate them before further processing of the material. This finally improves the quality of the product.
3. Pharmaceutical processing
Medicine industry is the most important part of the society. Any impurities in the manufacturing can harm human lives. So the metal detectors play an important role in manufacturing the pills and tablets. Under strict monitoring, metal contamination is firmly avoided to meet the hygienic requirements. The metal detectors used are easy to clean after every use.
These crucial devices should be fabricated with the aid of optimal grade raw material and modern technology in tune with the universally accepted standards and norms. The metal detector suppliers in Delhi should have a sound far-reaching distribution network so as to make deliveries of their consignments all over the globe. They must check each and every lot on the basis of various quality grounds in order to ensure their user-friendliness.
Hence, we can conclude that metal detectors form an important element for carrying our various operations smoothly and successfully.