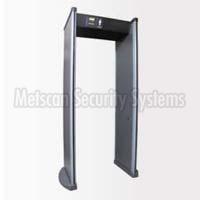 A metal detector is an advanced machine that helps detects the existence of metal with any person or present nearby. These come wide variety and door frame metal detector are good source to find metal presences hidden within objects. Usual detectors often comprise of a handheld component with a sensor. If the sensor comes near it, you may get to know it with a change in tone in the earphones points out, or with the help of a needle moving on an indicator.
Some leading door frame metal detector suppliers in Delhi make available all varieties of metal detectors online.
Door frame metal detector
It is static 'walk through' or door frame metal detector used for security screening at entrance points in prisons, malls, courts, and airports, metro stations to detect concealed metal weapons on a person's body.
Door frame metal detectors have become more widespread these days. The consumers are experiencing this is the best model as it suits their specific needs.
The leading door frame metal detector suppliers in Delhi are offering the following features in their high-quality devices.
Features of metal detectors
1. Multi-Dimensional Scanning and Detection Field
Multi-Dimensional Scanning advances the speed and quality of the scan. A high-quality \'walk through\' or metal detector will scan a multi-dimensional field with total consistency on both cleavers. This feature also reduces the number of false alarms. A metal detector with multi-dimensional scanning is an asset because it ensures that people are able to move through it quickly and without unnecessary disruption.
2. Microprocessor Controls
The metal detectors processor controls are the inner bits that really contribute this tool its power. It uses state of the art processors to ensure program sensitivity and flexibility. With 200 distinct sensitivity stages in each program, this metal detector guarantees quick and accurate detection.
3. Variable Alarm with Audible and Visual Alerts
Having variable alarm options in your 'walk through' metal detector is a benefit. An audible alarm in door frame metal detector that is variable depending on the target location helps the operator to quickly identify the target. This improves the
1. Speed and efficiency of the operator's ability to deactivate the problem,
2. Increasing the likelihood of a safe resolution,
3. Minimizing the risk to your operators and others nearby
4. Access Control Panel
It is significant that the access control panel of a door frame metal detector maintains a high level of security and functionality, while still providing comfortable ease of use.
Where to buy high-quality detectors?
These days, online purchasing is on a hike. One can buy high-quality metal detectors online from leading door frame metal detector manufacturer India. They are endowed with the following qualities:
1. Have a state of the art infrastructure
2. Have a highly sophisticated manufacturing unit,
3. Flawless and smooth production of all our products
4. Consists of well experienced, dedicated and qualified professionals
5. Well-coordinated network that helps to provide prompt delivery services